Abersoch Land & Sea The Powerboat Specialists
Royal Garage,
Abersoch Pwllheli, LL53 7AH
Tel:+44 (0)1758 713434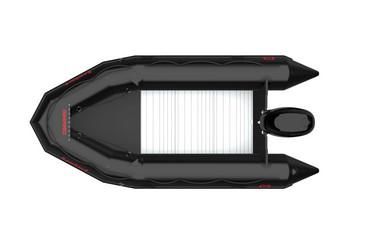 The Commando is a boat designed for action with its rigid keel and aluminum floor. It traces its course with power and precision in all circumstances. Not a surprise that it entices explorers, fishing or underwater hunting enthusiasts.
Monobloc anodized aluminum floor that is rot-resistant, non-corrodible, and resistant to chocks.
Antichafing strip with ultra-wide profile
Rigid keel in 3 articulated elements (Bombard exclusive): built up without tools and with a gullwind hull shape.
Strongan™ Duotex™ fabric
Specifications
Engine 1 Specifications
Engine 2 Specifications
Equipment
Hull
Rigid keel in 3 articulated elements with quick build up without tools
Monobloc anodized aluminum deck with rail
One aluminum engine support plate
Attach point for launching wheels
Two drains for flushing
Buoyancy tube
Strongan™ Duotex™ fabric 2×1100 decitex
Assembled by thermobandage welding
Easy push valve
Headline lashing + front coaming
Deflector antichafing strip with ultra-wide profile
2 "D" tow rings
2 "D" lift rings
Four exterior handles
One front metallic handle
Cone reinforcements
Standard equipment
2 transport bags with multiple pockets
Two paddles
One air-pump
One maintenance tool kit
One owner's manual